All Saints' Chapel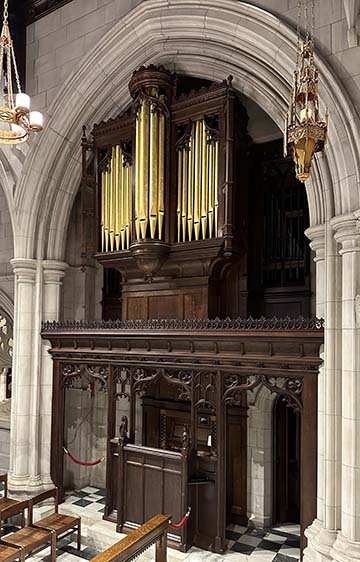 Trinity Church Wall Street
All Saints' Chapel
New York City
We are pleased to announce a contract with Trinity Church Wall Street for our Opus 26, to be installed in All Saints' Chapel, adjacent to the main nave.
Trinity Church was granted a charter from King William III of England in 1697 and the first Trinity Church was erected at the head of Wall Street facing the Hudson River. Although Anglican services had been held in the colony's fort chapel, the building was the first Anglican Church on the island of Manhattan. The present structure, designed by architect Richard Upjohn and consecrated in 1846, is the parish's third building. Added in 1912, the Chapel of All Saints' was designed by architect Thomas Nash in a 14th century English Gothic Style. Boston organ-builder Hook & Hastings provided the original nine-stop organ, housed in casework also designed by Nash.
The new organ will retain the Nash case in a slightly modified form, supplemented with new woodwork at either side, along with significant chamber modifications to improve the environment and tonal egress. The manuals will have 50 keys controlling 61 notes, while the pedal clavier will contain 26 keys controlling 31 notes. These unusual appointments pair to quarter-comma meantone tuning with 15 pipes for each 12 note octave. The enharmonic notes of D#/Eb, G#/Ab, and A#/Bb will be selected by individual mechanical switching.
Delivery is expected in Spring 2022, with completion later that year. Our Opus 26 is part of a campus-wide pipe organ initiative at Trinity Church, including the Noack (Op. 161) installed in 2017 at St. Paul's Chapel, and the forthcoming Glatter-Götz/Rosales for the main part of Trinity Church, to be completed in 2023.