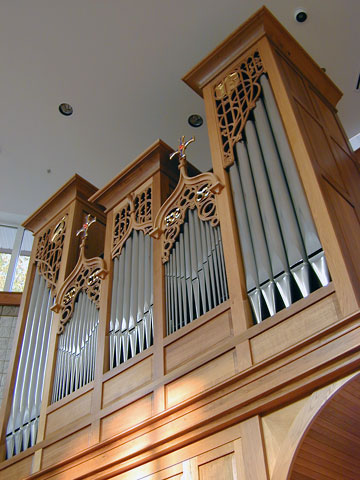 Overview of our organs
Over 28 years we have completed 21 instruments that range from a one manual meantone organ for Mercer University, to an imposing three manual instrument for Pinnacle Presbyterian in Scottsdale, AZ and the first American built organ in a London church. In each case there are many ways in which we strive to produce an organ that fits the environment. Aside from the issues of pipe scaling, voicing, and stoplists, which answer directly to the logistical needs of the institution or the liturgical needs of the congregation, we also look very carefully at the visual environment.
Overall design, layout, finish, and decoration vary widely (Opus 7 and 8) so that the scale and feel of the room are reflected in our work. Our recent Gothic styled organ case for Duke University (Opus 16) is entirely of white oak, while the Southwestern feel of Arizona (Opus 14) is enhanced by a linear case entirely of waxed douglas fir. We have also lead the way in producing faux bois (painted wood grain) cases (Opus 15 and 17) which allow greater control over color, balance, and presentation in the room. The care we take in all aspects of building the inside of an organ are reflected in the attention to such details on the outside.