New shop buildings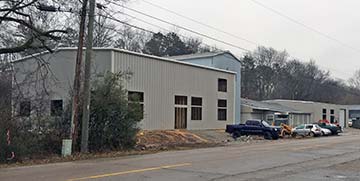 Happy New Year!

2014 was a very full year for our company. We completed a house organ of 11 stops and a 17 stop organ for Somers Congregational United Church of Christ. The shop is currently working full steam ahead on our largest organ to date for Prairie Village Presbyterian Church. This large organ is 58 stops on 3 manuals and pedal and expected delivery is in the autumn.
In 2014 we finally decided to expand our shop space and the two new buildings in the photo above are to be completed in February. Everyone is excited to have more space that includes enough tall space to setup two organs at the same time, a much larger pipeshop, a separate machine room, lots of new workbench space, two voicing rooms, and individual offices. It has only taken us 26 years to make the jump and now we are patiently (well, a little impatiently) waiting to move into the new space. We will keep you posted on an open house to celebrate and dedicate the new buildings in the Spring.
In addition to the Kansas installation this year we will begin construction of a 17 stop organ for Calvary Church in Stonington, CT. The church is a beautiful small stone building designed by Richard Upjohn and consecrated in 1849.
This looks to be a full year!

Ps. In case you missed our Christmas video here is a direct link…